Mrs Harris and Miss McKenna and of course all the children welcome you to the web page about our learning in Beech Class!
Maths in Year 1
WE LOVE MATHS, YES WE DO, WE LOVE MATHS, HOW ABOUT YOU?
We make maths as active and fun as we can in Year 1 so that the children can be engaged and hopefully can continue to build on the foundations from their time Early Years and LOVE MATHS as much as the adults do!
By the end of Year 1, the children should have mastered some key skills as listed below:
Number and place value
Count to and across 100, forwards and backwards, beginning with 0 or one, or from any given number.
Count, read and write numbers to 100 in numerals; count in multiples of twos, fives and tens.
Given a number, identify one more and one less.
Addition and subtraction
Represent and use number bonds and related subtraction facts within 20.
Fractions (including decimals)
Recognise, find and name a half as one of two equal parts of an object, shape or quantity.
Measurement
Compare, describe and solves practical problems for:
lengths and heights eg long/short, longer/shorter, tall/short, double/half;

mass/weight eg heavy/light, heavier than, lighter than;

capacity and volume eg full/empty, more than, less than, half, half full, quarter; and

time eg quicker, slower, earlier, later.
Tell the time to the hour and half past the hour and draws the hands on a clock face to show these times
Properties of shape
Recognise and name common 2-D and 3-D shapes, including:
2-D shapes eg rectangles (including squares), circles and triangles;

3-D shapes eg cuboid
Beliefs and Reflections
Each half-term we have a Beliefs and Reflections day as a Key Stage. Most recently with our year 2 friends we learnt more about Christianity and Baptism. Reverend Cathy welcomed us to All Saints Church and even made the time to demonstrate what happens in a Christening ceremony. We were also lucky enough to have several families share their Christening experiences and memorabilia with us.
In addition to our Beliefs and Reflection days we also have Open the Book visit us every other week. They are a group of volunteers from the village church who give up their time to bring Christian bible stories to life for us.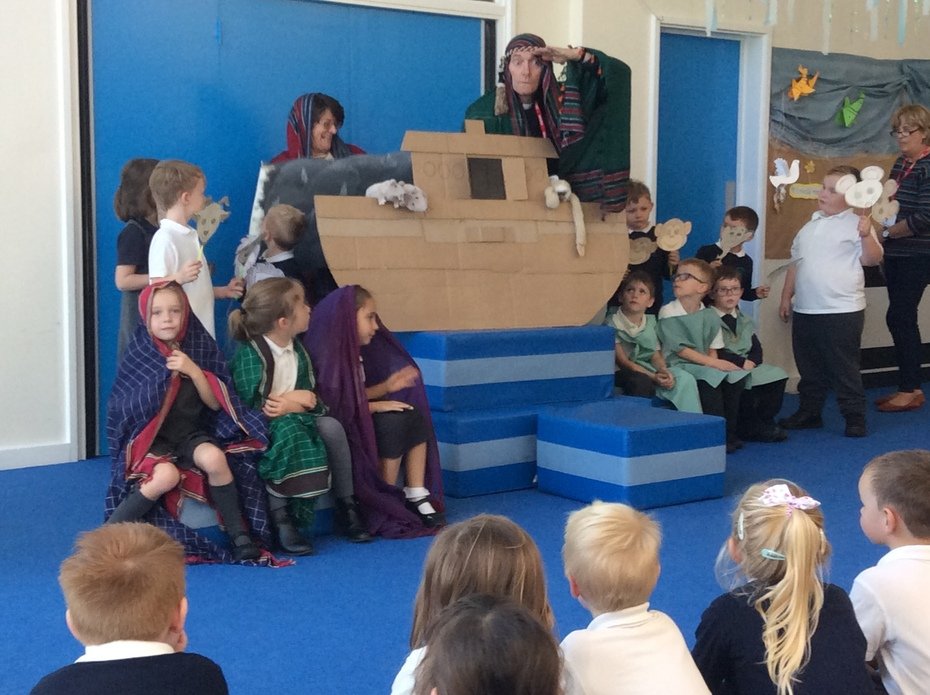 Reading in Year 1
In Beech Class we are still learning to apply our phonics knowledge when reading and welcome volunteers who would like to support our little learners by listening to them read.
We have reading books linked to our phonics knowledge following the Big Cat reading scheme.
Every day children enjoy a book for pleasure during ERIC time, which stands for Everyone Reading in Class. Don't worry about their emerging reading skills, the children love it! They like to look at the pictures, put their reading skills into practice with a REAL book and to share stories with their friends. What's more it is so good for the soul- twenty minutes quiet R and R!
Beech Class
Important information:
Monday
8:45am Open Morning- sign in at the office with your child and pop into the classroom to see your child's work and have a quick chat with Mrs Harris and Miss McKenna.
Chair of Governors- Karen Sewell listens to readers.
Library- Don't forget to bring your books!
Tuesday-
PE - please make sure earrings are removed and kit is in school.
Alternate weeks 'The other' Mrs Harris listens to readers/Open the Book
Wednesday-
Thursday-
Spellings
Friday-
Forest School- children should come to school dressed suitably for the forest with their school uniform in a bag to put on later.
PE- please make sure earrings are removed and kit is in school.
Power of Reading
In Beech Class we love combining our skills and reinforcing our understanding in lots of areas of the curriculum. Quality texts are at the heart of our learning, acting as a stimuli for our not only our learning in English but in Art, Geography, History and DT. We reveal books very slowly to the children allowing lots of time for prediction, comprehension and discussion, they often don't find out the title until the end of the book! So far we have practised our speaking skills as we had a heated debate with each child claiming the hat was theirs, written questions for a press conference, interviewed a bear, written newspaper articles, a poem and learnt about primary colours with just our first book; I Want my Hat Back! A highlight was 'noun the room' - the classroom looked quite spectacular labelled with post-it notes written by the children!
Class Dojo
We are proud that we have at least one parent/carer signed up to Class Dojo for every child in Beech Class.
Class Dojo has proved to be a great way to stay updated with what your child does at school everyday- other than the usual response of played and had lunch that you get when asking them! It is also fantastic for messaging the teachers, please do use it for this- I know I use to message all you!