Mrs Harris, Mrs Warrington and Miss McKenna and of course all the children welcome you to the web page about our learning in Beech Class!
Maths in Year 1
We make maths as active and fun as we can in Year 1 so that the children can be engaged and hopefully start to form a love of learning.
By the end of Year 1, the children should have mastered some key skills as listed below:
Number and place value
Count to and across 100, forwards and backwards, beginning with 0 or one, or from any given number.
Count, read and write numbers to 100 in numerals; count in multiples of twos, fives and tens.
Given a number, identify one more and one less.
Addition and subtraction
Represent and use number bonds and related subtraction facts within 20.
Fractions (including decimals)
Recognise, find and name a half as one of two equal parts of an object, shape or quantity.
Measurement
Compare, describe and solves practical problems for:
lengths and heights eg long/short, longer/shorter, tall/short, double/half;

mass/weight eg heavy/light, heavier than, lighter than;

capacity and volume eg full/empty, more than, less than, half, half full, quarter; and

time eg quicker, slower, earlier, later.
Tell the time to the hour and half past the hour and draws the hands on a clock face to show these times
Properties of shape
Recognise and name common 2-D and 3-D shapes, including:
2-D shapes eg rectangles (including squares), circles and triangles;

3-D shapes eg cuboid
Beliefs and Reflections
Each half-term we have a Beliefs and Reflections day as a Keystage. With our year 2 friends we learnt more about Judaism this time. It was great to work with the children from Silver Birch as they learnt about some elements of Judaism last year and could support us. Teshuvah was new to both of us and through the story of Jonah and the Whale we learnt about forgiveness in Judaism.
In addition to our Beliefs and Reflection days we also have Open the Book visit us every other week. They are a group of volunteers from the village church who give up their time to bring Christian bible stories to life for us.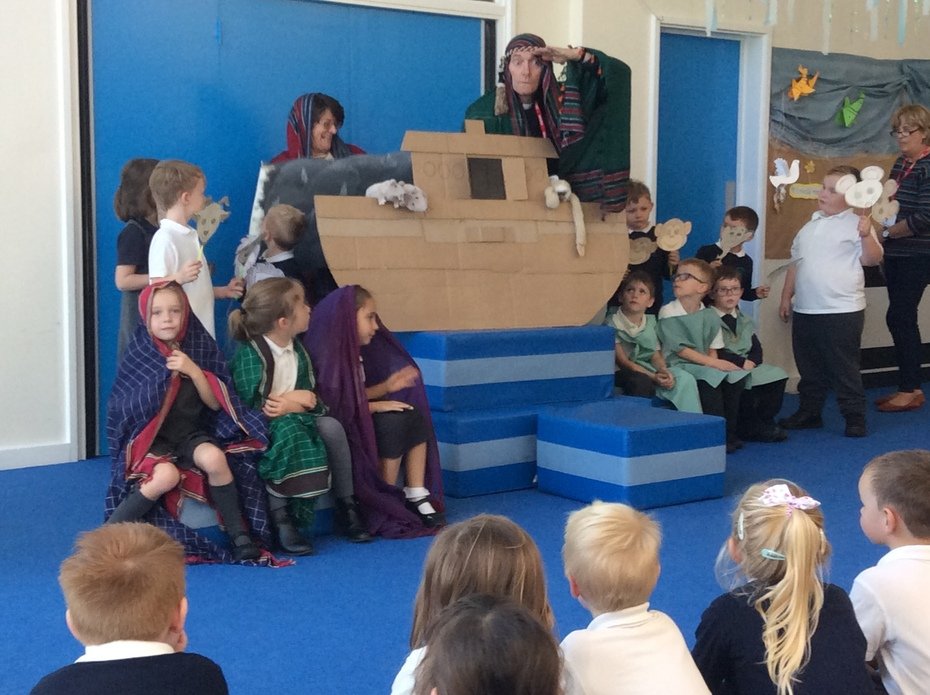 Reading in Year 1
In Beech Class we are still learning to apply our phonics knowledge when reading. However we are also learning to do 'real reading' and are focusing on the comprehension and enjoyment of reading. During the course of year 1 the children begin to apply their reading skills outside of their reading book in several areas of the curriculum and the world around them.
Books linked to our Autumn learning:
Beegu (Autumn1)
Baboon on the Moon directed by Christopher Duriez
The Way Back Home by Oliver Jeffers (HarperCollins)
Wonderful Life by Helen Ward (Templar)
Dr Xargle's Book of Earthlets by Jeanne Willis and Tony Ross
Toys in Space by Mini Grey (Red Fox)
Zim Zam Zoom (Autumn 2)
I'm a Little Alien illustrated by Mique Moriuchi
Hey Little Bug: Poems for Little Creatures illustrated by Mique Moriuchi
Other titles by James Carter for wider audiences:
Journey to the Centre of My Brain illustrated by Chris Garbutt
Cars, Stars, Electric Guitars illustrated by Mique Moriuchi
Time-Travelling Underpants illustrated by Chris Garbutt
How to Turn Your Teacher Purple! And Other Sizzling Science Poems illustrated by Nigel Baines GRRR! Dinos, Dragons and Other Beastie Poems with Graham Denton
Spooky Poems with Brian Moses, illustrated by Chris Garbutt
Greetings, Earthlings! Space Poems with Brian Moses, illustrated by Chris Garbutt
Emperors eggs (Autumn 2)
Emily Bone: Penguins
Camilla de la Bedoyere: 100 Facts Penguins
Anne Schreiber: Penguins
Anna Claybourne: Animals on the Edge: Penguin
Valerie Bodden: Animals Are Amazing: Penguins
Sharon Katz Cooper: When Penguins Cross the Ice: The Emperor Penguin Migration
Polly Dunbar: Penguin
Oliver Jeffers: Lost and Found
Petr Horáček: Blue Penguin
Jean-Luc Fromental and Joelle Jolivet: 365 Penguins
Jill Tomlinson: The Penguin Who Wanted To Find Out
Giles Andreae and Guy Parker-Rees: Be Brave Little Penguin
Helen Hancocks: Penguin in Peril
Tracey Corderoy and Gavin Scott: Little Penguin Lost
Power of Reading Text
In Beech Class we love combining our skills and reinforcing our understanding in lots of areas of the curriculum. The first part of the Autumn term was based on the book Beegu by Alexis Deacon.
Through revealing the story slowly, sometimes as slowly as a page a week, the children have really engaged with Beegu's character, used the illustrations to understand this little lost alien and have shown her a lot of empathy. They have written poems about her changing feelings throughout the story, written letters to her to offer her help and to say goodbye. The children made friends for Beegu and wrote some wonderful descriptions of them.
They've designed Beegu's home planet, which has been named by Beech class as the planet Oblob. They compared their planet Oblob with Earth with the help of Google Earth, the children discovered that water looks blue from a satellite and much of our planet is green, this is quite different to Oblob where there are rivers of custard and the grass is made of jelly! It was great to see their imaginations come to life!
We started helping Beegu understand life on Earth when it looked like she would be stuck her, making maps of Stanton so she could find our school and then maps of the school so she could find out classroom and we could look after her. After that we wrote instructions so she would know how to wash her hands and lots of playground games.
Hot seating has become one of our favourite activities and really helps us explore characters and gives us lots of ideas for writing, especially when we have to pretend we are Beegu and have to write a diary entry!
A highlight of this term was hearing two children in play discuss if Beegu was real and them deciding that she was!
We were all sad to say goodbye to Beegu but we know she will be happier with her parents on her home planet. Hopefully she knows now that not everyone is grumpy and unkind on Earth and will maybe bring her family to visit us one day.