We cannot believe that the children are already approaching their last term in Hazel Class.
Please do try to encourage your child to come into class on their own. Having lots of grown ups in the classroom can sometimes be upsetting for other children. They really do settle quickly once the door is closed. Thank you.
Signs of Spring
The children have been spotting signs of Spring and learning about "growing" - from creatures that come from eggs to planting and growing seeds for flowers, plants and vegetables. Please do let us know how their sunflowers are progressing at home. We would love to see some photographs or drawings of them.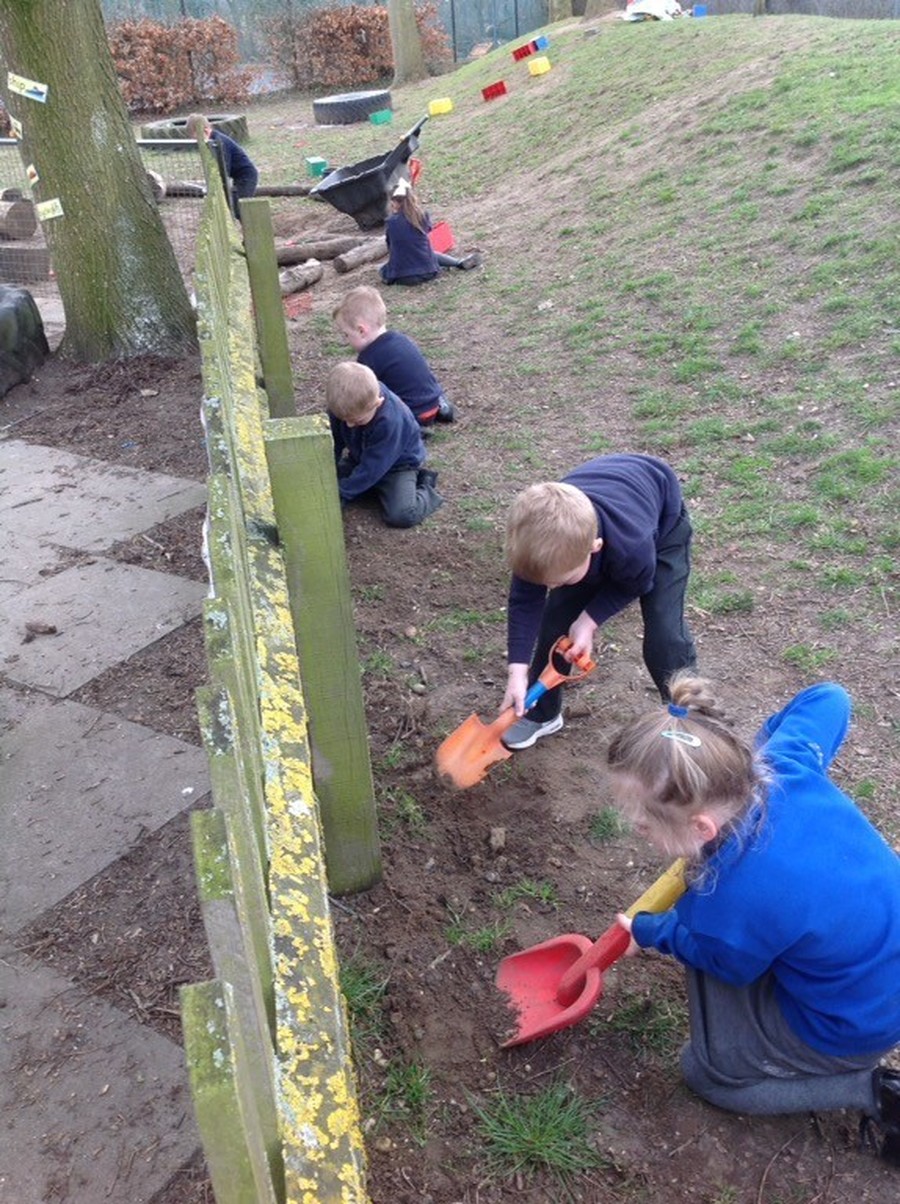 As you know, we use Jolly Phonics to support teaching of sounds. Please take the time to read them with your child and talk about the sound, the action and the song they have learned for each. We use songs from Jolly Phonics which are a fun and active way to learn the sounds. Copy the link below into your browser for the songs in the order we teach them. Alternately download the Jolly Phonics app.
https://www.youtube.com/watch?v=COJdn6sbbsk
Learning in the moment
In Hazel class our children learn through play. Our practitioners find fun and interesting ways to enable your child to make progress across the EYFS curriculum as they are playing. Some examples already from this year are building a bonfire complete with hand made paper flames, designing and constructing an assault course, developing a house for some fairies to live in and making up some team number games!
We are inspired by the philosophy of Anna Ephgrave who believes that:
"Children learn best when they follow their own interests. They have a natural desire to explore, communicate, create and learn"
http://www.foundationyears.org.uk/wp-content/uploads/2012/03/Early_Years_Outcomes.pdf
Keep up-to-date with your child's learning on Tapestry. Most parents have now been set up on the system, and the remainder will be soon. We love to hear about all the wonderful learning that happens at home as well so please do add your observations too!

Forgotten your login details? Talk to me and I can can re-set your account in just a few minutes.
Mrs Edney
Reading with your child
Please read regularly with your child. They will bring home a library book every Friday (which does need to be returned the following week) and will soon be bringing home a reading book too! Please find below some tips on how to support your child with reading as provided in your Hazel Class Learning Leaflet.