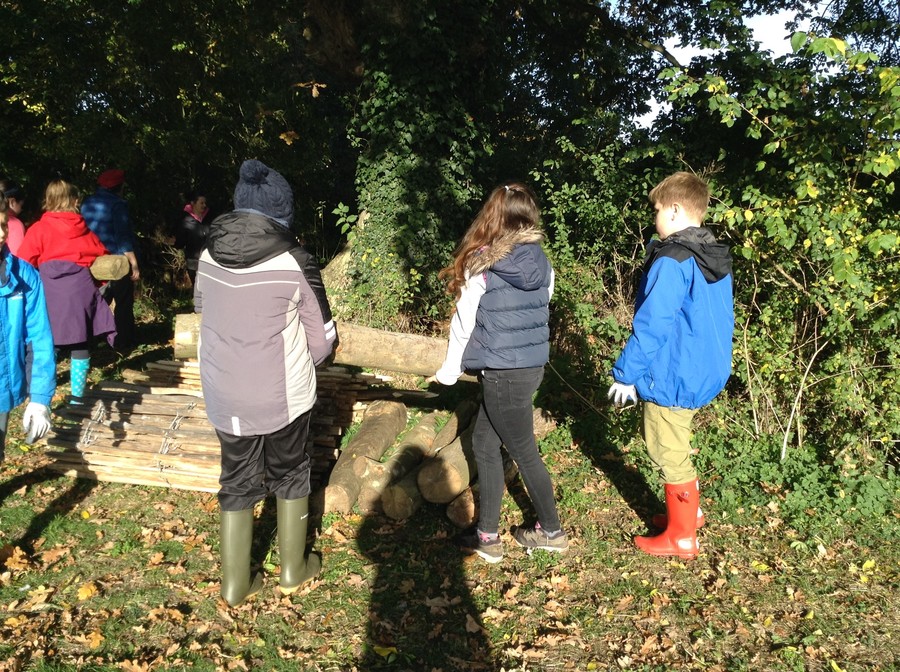 Fun in the forest
By the end of this academic year all our children will have had the opportunity to learn weekly in the forest. The children are exploring the forest and they have noticed the changes the seasons bring first hand. Our building learning power is very evident during Forest School sessions. We see reciprocity and resourcefulness in action as the children build dens, resilience as they climb trees and saw wood and a highlight of the session has to be seeing the children reflect around the campfire as they drink hot chocolate and listen to stories.
Forest school leaders level 3 - in training!
Mrs Sheehy and I have the amazing opportunity to become Forest school leaders ourselves! We have so far enjoyed one out the six weekends of training for this course. On our first day we spent ten minutes laying on our backs as the rain fell on us and listening to nature- quite different to the usual courses we attend! We found out more about the principles of Forest Schools and linked them to learning theories such as those it forward by Piaget, Vygotsky and Guy Claxton- the creator of Building Learning Power. We then had to represent these theories using materials found in forest! We love that a lot of our training is outside and run like a Forest School session the children experience.
Weekend 2 of Forest School leader training.
A bit more theory based this week as discussed behaviour and what influences it, risks and hazards in the forest, sustainability and all the assignments we have to complete! That said these heavier elements were broken up by learning how to light a fire! We made our own kindling using a sheath knife- a surprisingly relaxing task! We also made our own tent pegs using the knife before building shelters in the woods, making good use of all the knots we've learnt so far. We made a frame then had create a picture to go it, when we returned to it later in the day we realised we had subconsciously recreated our school badge! We now have four essays to complete before the end of April, we have to write about learning theories and Forest School, the Forest School pedagogy, the role of play and risk taking and a last one about behaviour and development. We now understand just how much research and theory underpins Forest School and just how much the sessions can benefit your children.
Mrs Sheehy contacted the owners of Sids Piece and they came to visit our school and of course our Forest School site, we discussed sustainability with them and the possibility of visiting Sids Piece sometime as an alternative site. They were very supportive of our venture and are pleased that we are encouraging and supporting children to reconnect with nature and indeed the local community.
Weekend 3
Saturday
This weekend covered risk assessments in much more depth. Mrs Sheehy and I will have to do risk assessments of our Forest School site and regular activities we will do on it each term as well as completing one before each session after checking the site. Additionally we have been taught how to make dynamic risk assessments throughout the day. We then moved on to talking about the handbook we have to create, once created this will provide all staff and parents who request to see it an in depth guide to Forest School at Stanton Community Primary School and the ethos in general. It will include the history of Forest School, pieces of current research on FS critiqued by us, a parent guide, a helper guide and policies. All this was before lunch! We had lunch in Frithy Wood a very old woodland in Lawshall, which was quite different to Golden Wood where our outdoor experiences had taken part thus far. Here we made shelters, fire sites and fire independently. It was great to see all the skills we'd learnt so far coming together. On return to the Foundry we created our own risk assessments of today's activities, before planning for tomorrow's cook out!
Sunday
We were so excited about cooking our lunch outside, but first we had to understand the ecological impact of running Forest School. This has been on our minds for some time as our site is relatively small and this session was really helpful to us. The types of policies we need to write were discussed and examples looked at. Success, the shelters we had erected yesterday were still up! We quickly got on with collecting firewood and getting the fires lit to cook our lunch! My group had quite a feast (as we had to try three different ways of cooking over a fire of course!)
Menu
To start
Over the flames:
Sausages
In the tin:
Baked beans
In the embers:
Jacket Potatoes
All served with an egg cooked in a tinfoil hammock over the flames
Main Course:
Chicken fajitas with peppers, onions, served with soured cream, lettuce and cheese. Cooked in a pan above the flames on a trestle
Dessert:
Toasted crumpets with butter and jam
Skewered marshmallows toasted over the fire
Grilled pineapple
We then tried some cooked nettles from Mrs Sheehy's group - they were actually okay and has a crisp like texture. (I do hope Mrs Sheehy ate more than nettles!)
To do:
1.Start handbook
2.Create a three year site management plan
Weekend 4: First Aid training
As part of our Forest School leader qualification Mrs Sheehy and I had to complete an 18 hour outdoor first aid course. Much of this focused on minimizing risk, which was also focused on in weekend 3. Check out our bandaging skills below! We're pleased to report we both passed!
Weekend 5
Our last weekend! Our Forest School training has had such an impact on us we can only imagine the benefits the children could get from the children. I already use some elements of the training in my everyday practice with the children in my class. This weekend was all about 'tying the bundle' that is a chance to consolidate our learning and ask any questions we may have going forward. In the woods we had a our last 'sit spot' and learnt some more new skills, such as how to make cordage from nettles. I learnt to make a mallet, and we all made charcoal in the fire. We discussed the planning of our sessions and how much of the planning may indeed in be 'in the moment' in response to the children. We watched a video of children during a FS session, the children in it spent the whole day in the woods, and what was overwhelming was their independence, confidence and imagination in the environment. Adults ensured they were safe and but allowed the children to lead their day and their experiences and this has raised a question in our mind of what is the role of the adults in Forest School?
To do:
Plan a six session block
Deliver six session block
Observe three children in depth over the course of the sessions
Reflect on each session and block as a whole
Be assessed by Green Light Trust during a session
Thank you for following our journey into becoming Level Three Forest School Leaders, we look forward to facilitating your child in their Forest School journey soon!
CPD
In addition to our Forest school leaders course some of us are continuing to develop our outside practice. I have been learning to spin wool, dye it using natural, homemade dyes, and to felt. Mrs Matthews has been learning more about storytelling to add to her existing skills in this area. Mrs Sheehy learnt more about Forest School activities for the winter months and even made herself a spoon! All courses were with The Green Light Trust.
Visit a woods near you!
Can you take your child to the woods at weekends and during the holidays?
In Stanton you have Bluebell Woods and Sid's Piece. I know that many of you go to Thetford Forest regularly but there are others you could visit too.
Bradfield Woods
During the Summer holiday I visited this ancient woodland to see how it has been managed throughout the years, as it is something we have to write about for our handbook. It was great to see so many managment techiniques in practice and it inspired me to copice one of the trees in my garden so that the children have some sticks for den building during their Forest School sessions. It is free to visit as are many of the woodlands around us, they also have events of for children throughout the holidays as do the Green Light Trust.
Find out more information about some of the local forests and parks by clicking the links below
http://www.suffolkwildlifetrust.org/bradfieldwoods
https://www.forestry.gov.uk/thetfordforestpark
http://www.westsuffolk.gov.uk/leisure/Parks/nowton-park.cfm